Health & Safety Law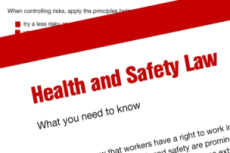 The most important and primary piece of health & safety legislation in the United Kingdom is the Health & Safety at Work etc. Act 1974 which lays down the principles of health and safety law in the UK. This Act defines the general duties of all employers to protect the health, safety and welfare of their employees and also the health & safety of non-employees, such as clients, customers and the general public.
Under the Act numerous secondary pieces health & safety legislation have been made which are known as Statutory Instruments (SI's) or Regulations. These cover a wide range of specific subjects, including the control of asbestos at work, diving, escape and rescue from mines, ionising radiation, working at height, construction sites, the control of chemicals, display screen equipment and first aid at work to name but a few.
Enforcement of health & safety law is undertaken by both The Health & Safety Executive (HSE) and your local authority health and safety inspectors (who usually work within the councils Environmental Health Department). Depending on the type of business you operate will depend on which enforcement authority is responsible for enforcing health and safety within your business, although with few exceptions the HSE is responsible for enforcement in higher risk operations.
Details of Health & Safety Enforcement allocation is listed in the Health and Safety (Enforcing Authority) Regulations 1998 (SI 1998 No.494).
As Health & Safety Law is a complex and highly specialised area of Law, it is often difficult to know which Acts and Regulations apply to your business and how. As experienced health & safety professionals we are conversant in all aspects of health & safety law and are able to assist clients meeting the legal requirements which apply to them.