Health, Safety & Risk Management
All employers have a legal duty to protect the health and safety of their employees and those persons affected by their operations. The consequences of failing to comply with Health & Safety Law can be serious and include:
​
Unlimited Fines
Individual fines & jail sentences
Director Disqualifications
Increased Insurance Premiums
Reputational Damage
By working with Orion our clients can feel assured that legal non-compliance can be avoided and that "due diligence" can be demonstrated. We are committed to providing a tailored service to our clients ensuring that their health & safety needs are met at all times.
Our comprehensive bespoke service includes:
The formulation of Health & Safety Policies & Procedures
Health & Safety Management Systems
Risk Assessments
Health & Safety Audits & Inspections
Accident Investigations
Competent Person Service
Annual Support Packages
Fully Accredited Health & Safety Training
As you would expect from a leading consultancy, our Health & Safety Consultants are fully qualified and specialist within their field. All our consultants are members of The Institution of Occupational Safety & Health (IOSH) or The Chartered Institute of Environmental Health (CIEH).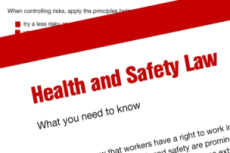 In addition to this, our Consultants are listed on the UK Government-approved Occupational Health & Safety Consultants Register (OHSCR) which provides the reassurance that our Consultants are suitably qualified Health & Safety Professionals who are bound by their professional bodies Code of Conduct.